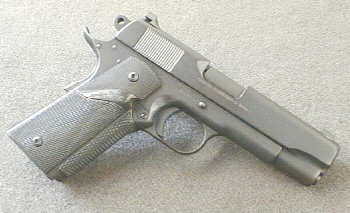 Colt Commander built into a carry gun. Nothing fancy, but 100% reliable. This one has a full dehorn job, a lowered and flaired ejection port, extended thumb safety, beavertail grip safety, extended mag release, nite sights, a trigger job and of course, a Gun Kote finish.

OUR NO BS POLICY!!!

We will not mislead you as to the delivery date of your firearm. We schedule our work as closely as possible, so don't be surprised if we tell you to wait until a specific date to ship us your firearm. You and I don't want your firearm sitting around gathering dust while we work on someone elses firearm. You can rest assured that when we recieve your firearm, it will only be a matter of days before we start your project.

We will not try to sell you something you don't need or want. We have been in this business since 1990 and have tried a lot of different products. Some we like and others aren't worth the trouble to melt down.We will listen to what you want and possibly make suggestions. Just remember, if you ask for our opinion, you are going to get it.

We are not afraid to say when we do not know the answer to a question. New products are being offered all the time and it is impossible for someone to know it all. If you find someone who says he knows it all, RUN!!! That person is dangerous.